Walnut Street Terrace Nursing Home
Where your loved ones find Compassion, Care, and Comfort
Welcome Home! Walnut Street Terrace is a beautifully renovated 17 unit Nursing Home with an outdoor terrace! Yes, a wonderful outdoor terrace with seating for family visits and where your loved one will be surrounded by plants, grass and trees! Our facility is located within the walls of Graham Hospital making our Nursing Home the ideal choice for your loved ones. Walnut Street Terrace has received a five star rating from the Center for Medicare and Medicaid Services.
Our expertly trained staff delivers compassionate 24-hour care providing assistance with their daily living activities along with psychosocial services and activities. Our main goal is to ensure our residents have the ability to live their lives in comfort and with dignity.
At Walnut Street Terrace Nursing Home we offer personal care with different levels of skilled nursing care to ensure individual needs are met. Our skilled staff is trained to provide specialized care in short-term recuperation for those needing assistance after an accident or a surgery as well as assisting those in need of chronic long-term care needs.
Our residents are provided with nutritious meals and are able to enjoy daily activities including exercise, music, games, baking and crafts to ensure their social needs are met. We also provide our residents access to a licensed hairstylist to have them looking and feeling their best.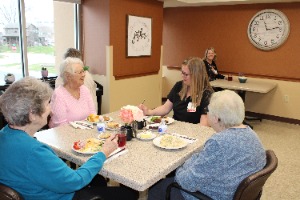 Walnut Terrace Long Term Services:
Medication Management
24 Hour Nursing Services
Spiritual Care Services
Admission Requirements for Long-Term Care
Must be under the care of a physician on staff at Graham Hospital
Must be at least 21 years of age
Walnut Terrace Nursing Home accepts most insurance plans including Illinois Medicaid, Medicare, Blue Cross Blue Shield as well as those who wish to pay privately.
Contact Us
If you are looking for your new home, or the new home of a loved one, and wish to schedule an appointment to find out more our beautiful Nursing Home , please call our Administrator at 309-647-5240 ext. 2208
How We are Serving You:
Angels in Scrubs! We brought my mom to the ER in October 2021. Those doctors and nurses listened, responded with care and concern for her condition and our extended family situation. My mom was placed on the first floor and she received wonderful care. I cannot express my appreciation and respect for all the the doctors, RNs, CNAs, Social Workers, housekeeping, Dietary and so many other hands. Not only helping her with daily personal needs, helping me with a difficult family situation, and handling medical needs of many others. They responded with compassion and professionalism. I leave here today with my mom, in Awe.
Denise Cogo