The Graham Wellness Center offers many classes to fit the various needs of our community members. If one of the classes listed below does not meet your needs or you would like personalized one on one training, we offer personalized sessions to help you meet your goals.
The Graham Wellness Center also offers a full array of Health & Wellness Classes associated with medical diseases such as diabetes.
Group Fitness Classes (Temporarily Unavailable due to Covid-19)
A fitness boot camp can shape you up. These group workouts incorporate a mix of traditional calisthenics and body weight exercises, with interval and strength training.
High intensity interval training is a form of interval training. It is a cardiovascular exercise strategy alternating short periods of intense anaerobic exercise, with less intense recovery periods. HIIT is the concept where a person performs a short burst of high-intensity (or max-intensity), exercise followed by a brief low-intensity activity or rest, repeatedly, until too exhausted to continue.
These group workout classes are a low intensity class designed for the older population. This class aims to provide some light strength training, cardio, balance, and flexibility training in a safe comfortable environment.
Strength training that uses a system of ropes and webbing, called a "suspension trainer," to allow users to work against their own body weight. TRX is a highly portable performance training tool that leverages gravity and the user's body weight to complete 100's of exercises.
The kettle bell is a cast-iron, or cast steel weight (resembling a cannonball with a handle), used to perform all types of exercises.
C25K has been designed to get just about anyone from the couch to running 5 kilometers, or 30 minutes, in just 9 weeks.
This is a stress management class, performed for GHS employees, in which they participate in 20 minutes of rest and relaxation through deep breathing, light stretching, and positive imagery.
Usually meets two times per year. The spring and fall for 6 weeks, with the group meeting 3 days a week at 7:00am at the Wellness Center. (Seasonal)
$26.00 per session
$260.00 – per package – 11 sessions- (saves $26.00)
$280.00 – per package – 11 sessions & two (2) Body Composition Scale Weigh-Ins (saves $36.00)
$15 – weigh in, results printout, & review
Workout & program design - $26.00
We will provide an individualized workout based around your goals, needs, injuries, etc.
Types of training assistance
Strength Training
Nutritional Guidance
Weight Management
Speed and Agility Training
Prehab Training
Post-Rehab Training
Balance and Flexibility
Rock Steady Boxing (Parkinson's Disease)
Fight back against Parkinson's disease with our Rock Steady Boxing class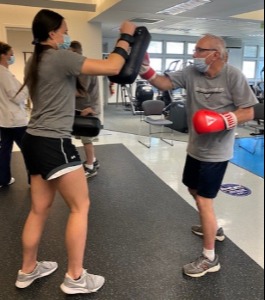 Rock Steady Boxing (RSB) enables people with Parkinson's disease to fight their disease by providing non-contact boxing-style fitness programs that improve their quality of life and sense of efficacy and self-worth. Recent students also suggest that intense exercise programs may be "neuro-protective," actually working to delay the progression of symptoms. RSB provides encouragement through a "tough love" approach, inspiring maximum effort, speed, strength, balance, and flexibility. Boxing works by moving your body in all planes of motion while continuously changing the routine as you progress through the workout. RSB classes have proven that anyone, at any level of Parkinson's, can actually lessen their symptoms and lead a healthier/happier life.
Accommodate varying degrees of Parkinson's Fitness. Build a camaraderie with other fighters and caregivers.
Initial Assessment: $75.00 (one-time fee)
Includes:
Cost of assessment
"HIT IT HARD" Gym Bag
RSB T-Shirt
Gel Wrap Boxing Gloves
14oz or 16oz Boxing Gloves
GHS Water Bottle
Jump Rope
Class Membership Fee: $60.00 per month
Tuesdays and Thursdays
1:00pm-2:30pm
How We are Serving You:
The care and service I received at Graham Hospital was amazing at every turn, from the ER to inpatient care. The medical staff could not have shown more incredible and passionate care during my stay.


Bruce Edwards